The Rising Stars (students entering grades 3-6 next school year) portion of our Midwest Elite Basketball camp will be held from 1:00-3:00 PM Mon. June 6th-Wed. June 8th. This is the 3-day option and payment is $60 (2-day option was mistakenly highlighted/marked). Flyers were distributed to students over the past week; please return them to Coach Whipkey by May 11th.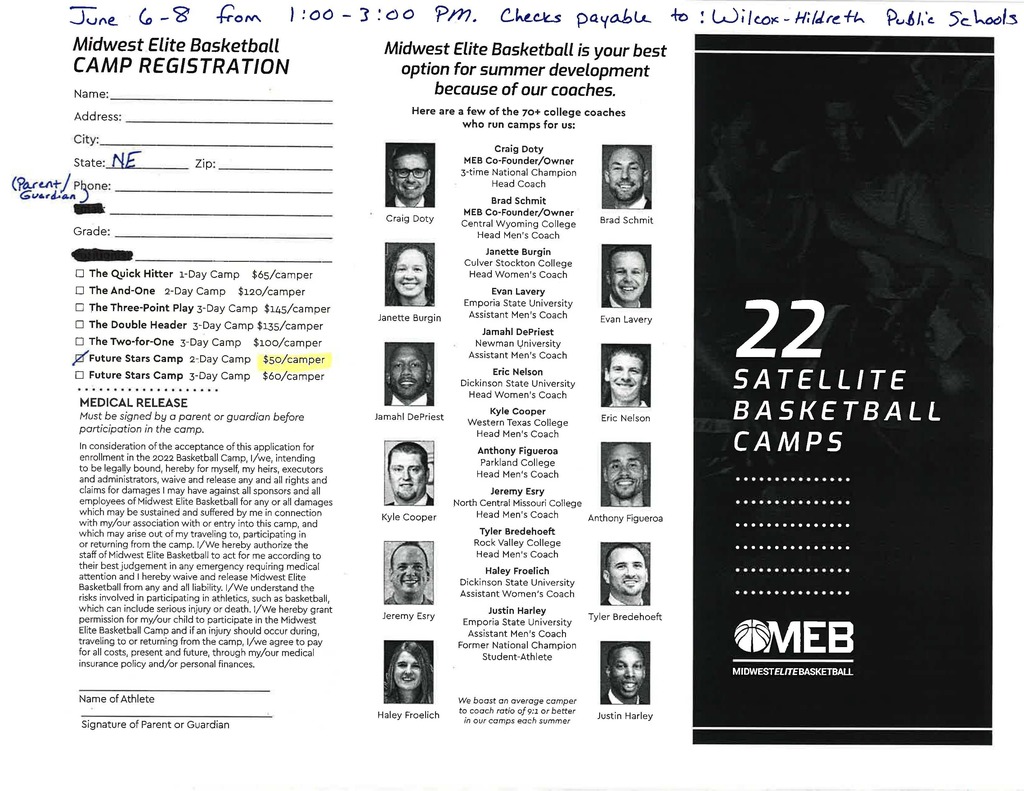 Congratulations to FBLA State Award Winners! Also, as we get ready for awesome accomplishments next year congratulate your 2022-2023 Wilcox-Hildreth FBLA Officers for next year. State Award winners include: the team of McKinley Ritner, Cara Bunger, and Katelyn Bunger placing 5th in E-Business, Cara Bunger placing 8th in Health Care Administration out of 190 students, Georgia Ramsey placing 7th in Website Design, and Marissa Anderson receiving honorable mention in Elevator Speech. Our new chapter officers for Next year are as follows: President-Georgia Ramsey, Co-Vice Presidents-Cara Bunger and Katelyn Bunger, Secretary-Katelyn Bunger, Treasurer-Cara Bunger, Reporter-Marissa Anderson, and Historian-Chloe Johnson. Congratulations to all of you. Thank you for an awesome year and I look forward to all that you will accomplish next year!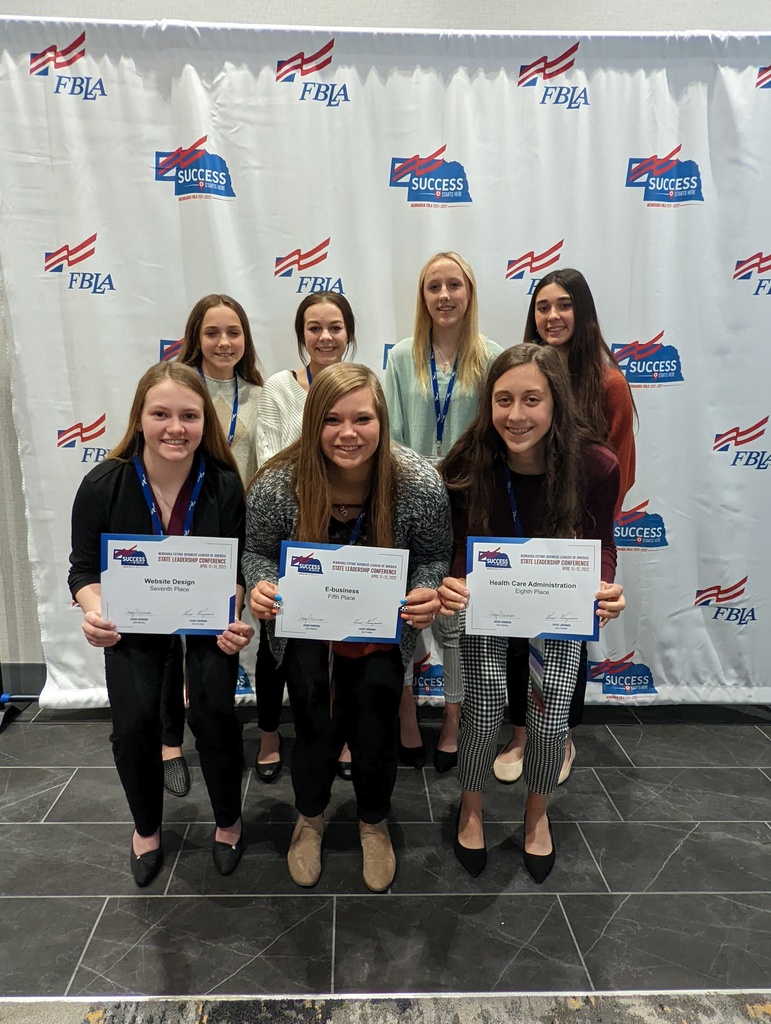 Prom Schedule of Events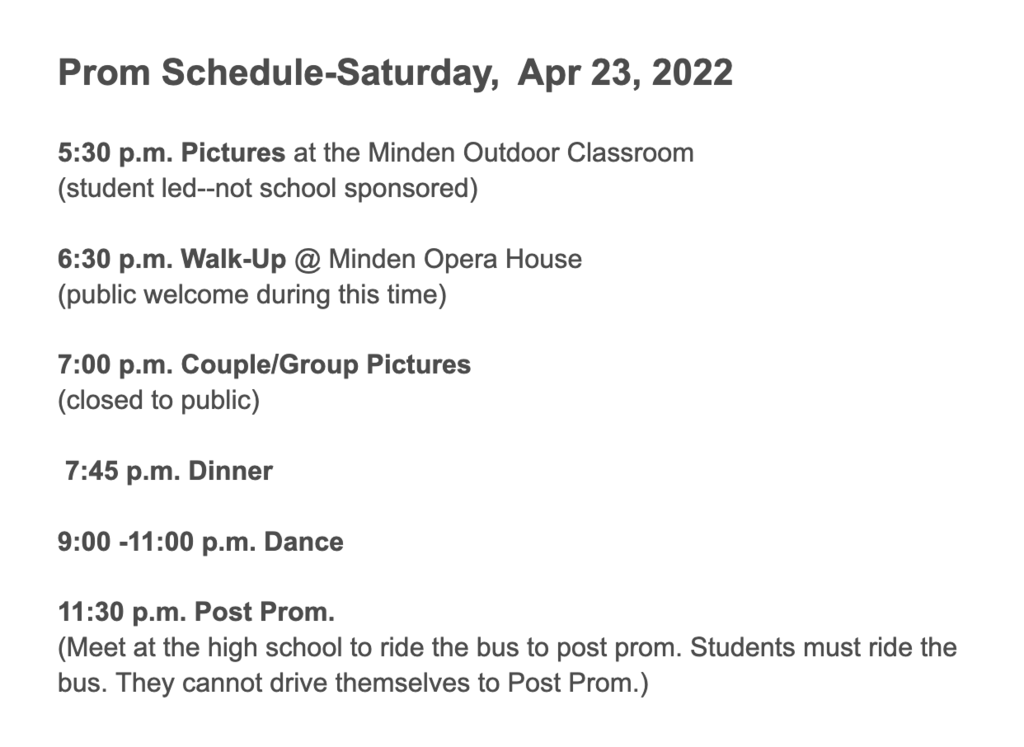 Foreign Language classes breaking cascarrones (confetti filled eggs)!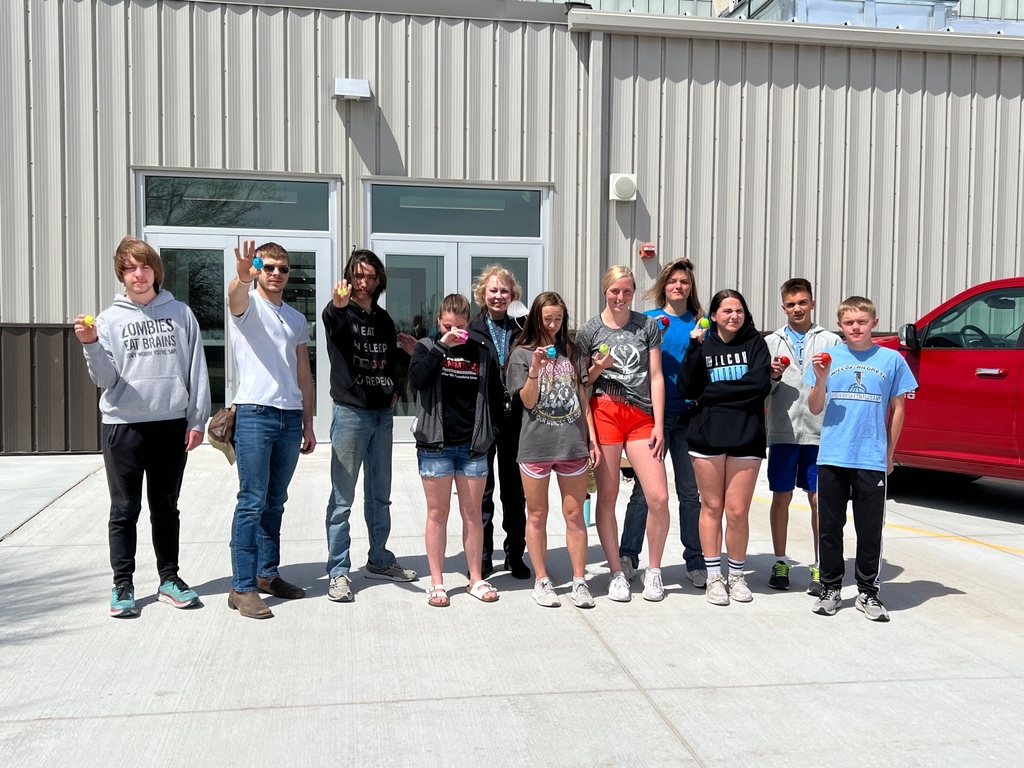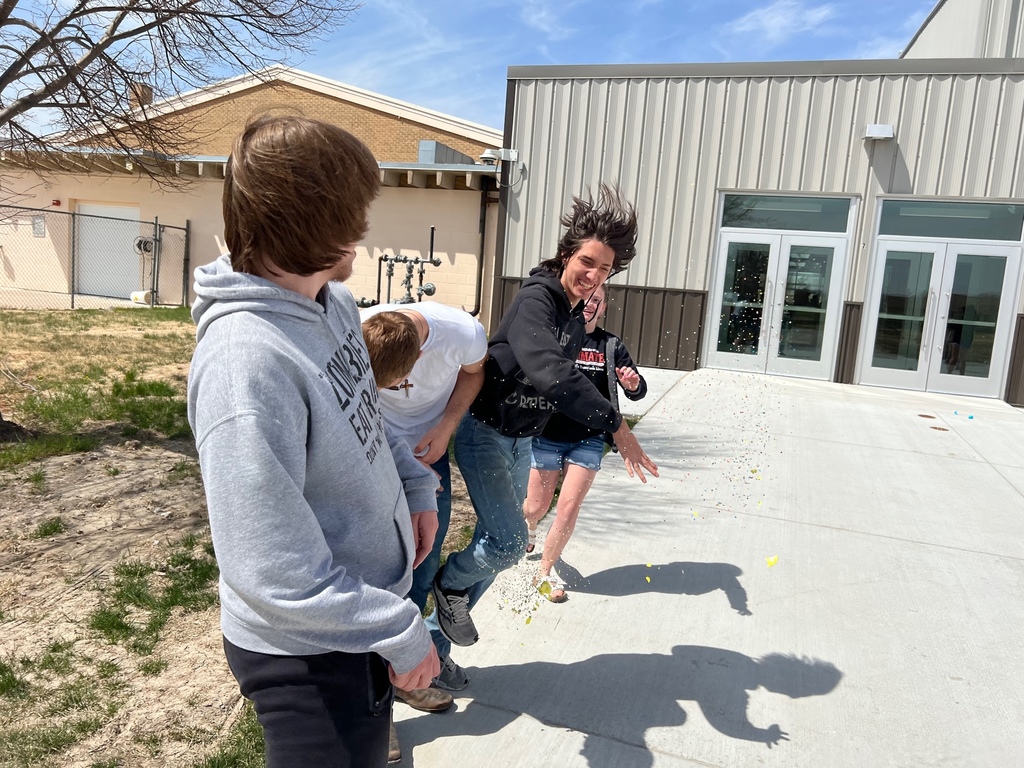 Congrats to Mr. Lovin for being our eleventh FORK nominee!! See the full details of why Mr. Lovin was nominated by checking out the News section of the school website.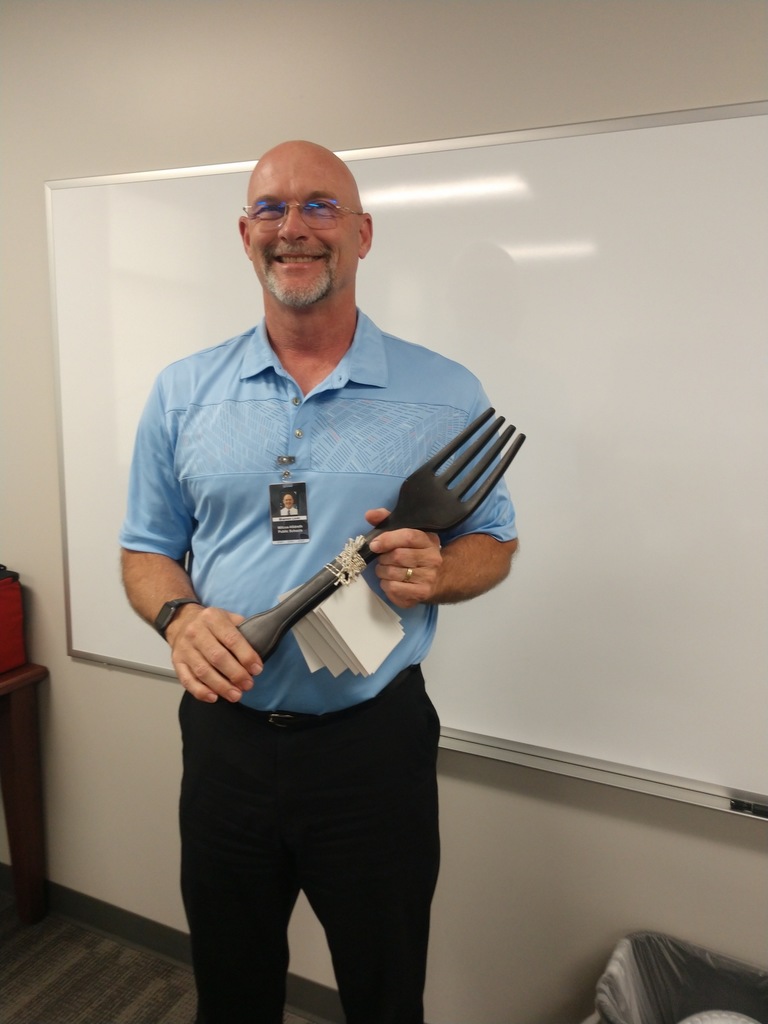 Reminder if you would like to purchase a District Track and Field shirt, orders are due tomorrow! Forms are in the office. Return money and forms to Julie! Make checks payable to WHPS.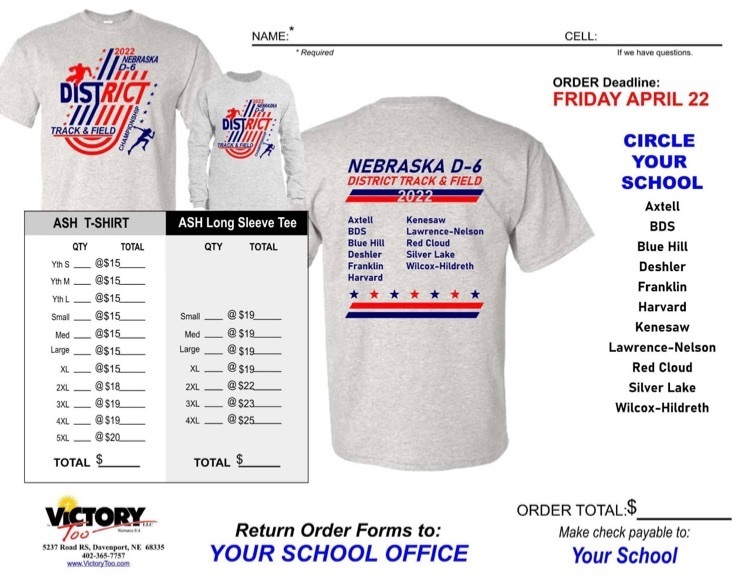 Prom is this Saturday, April 23! Thank you to those who have already volunteered to help with prom or post-prom. I am, however, still looking for one or two people to help the caterers in the kitchen. If you would be willing to help, please contact me.

The Falcon football team is excited to announce the inaugural Central Nebraska Skill Position Camp, featuring Chadron State football coaches Micah Smith and Clint Sasse, that we will host in Wilcox on July 13th!! There will be a 5th-8th grade session, and a high school session!!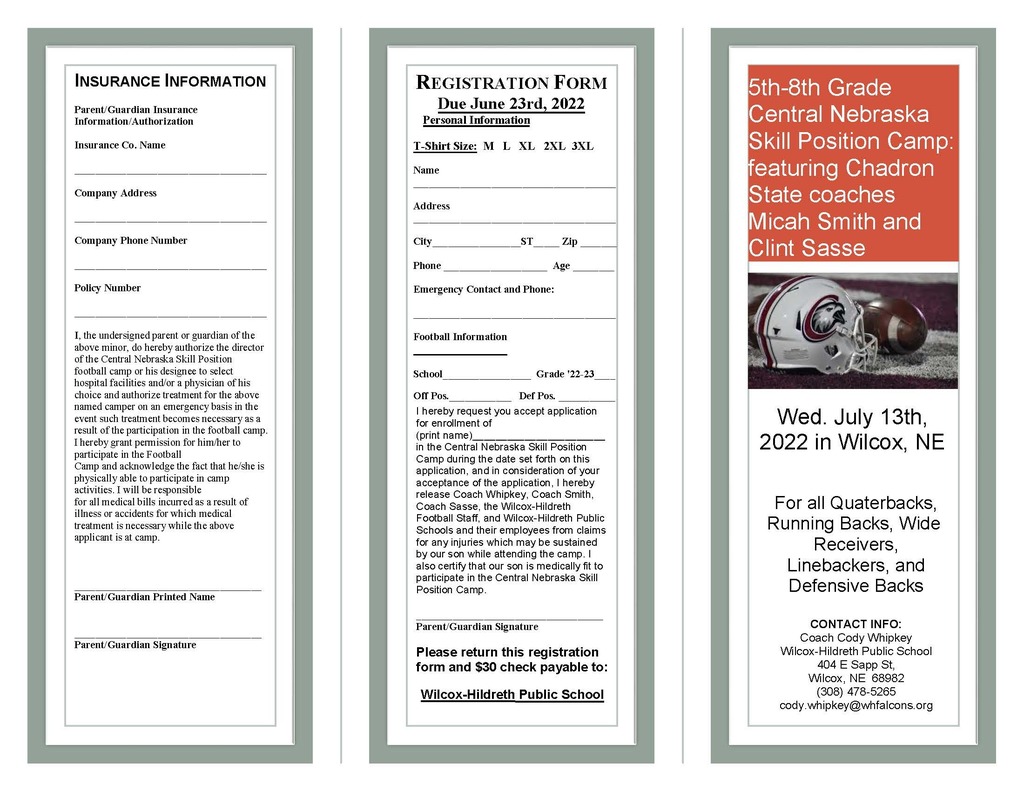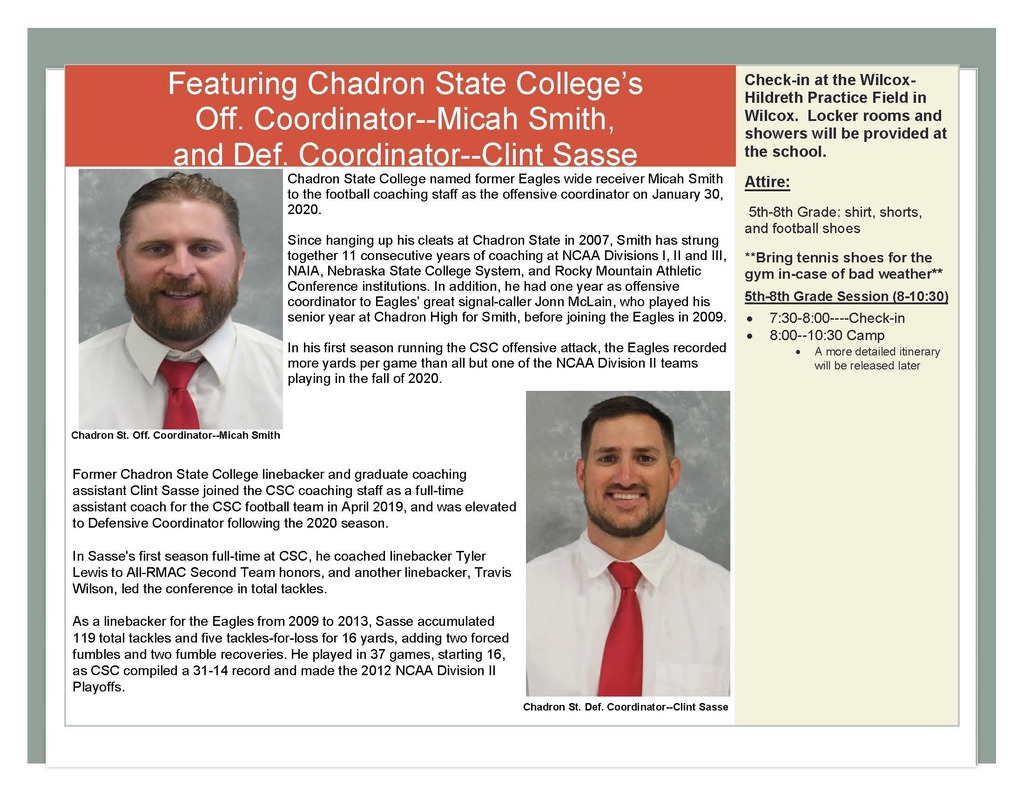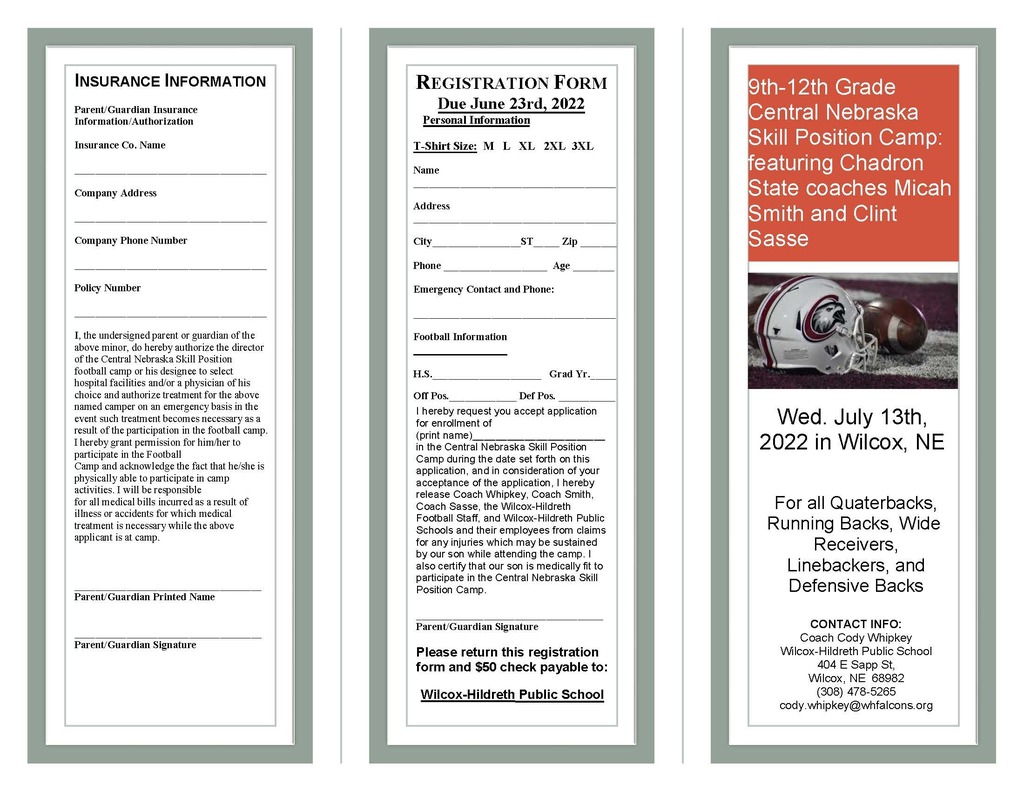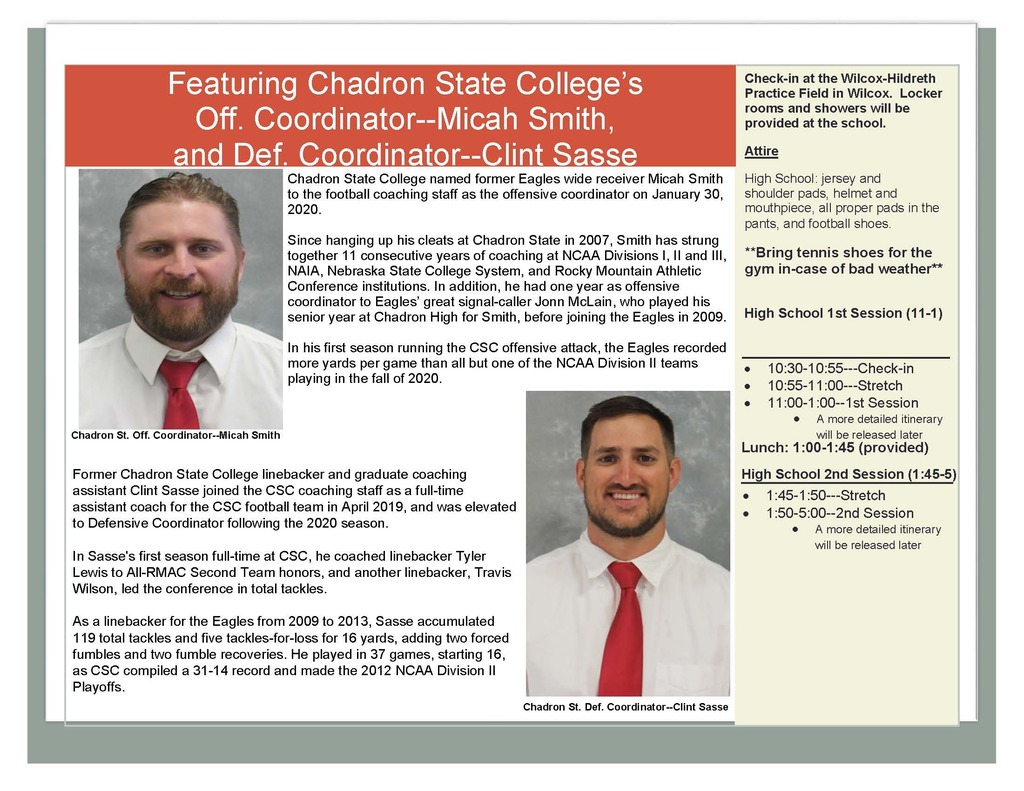 For those going to the high school track meet in Arapahoe tomorrow here is the schedule of events.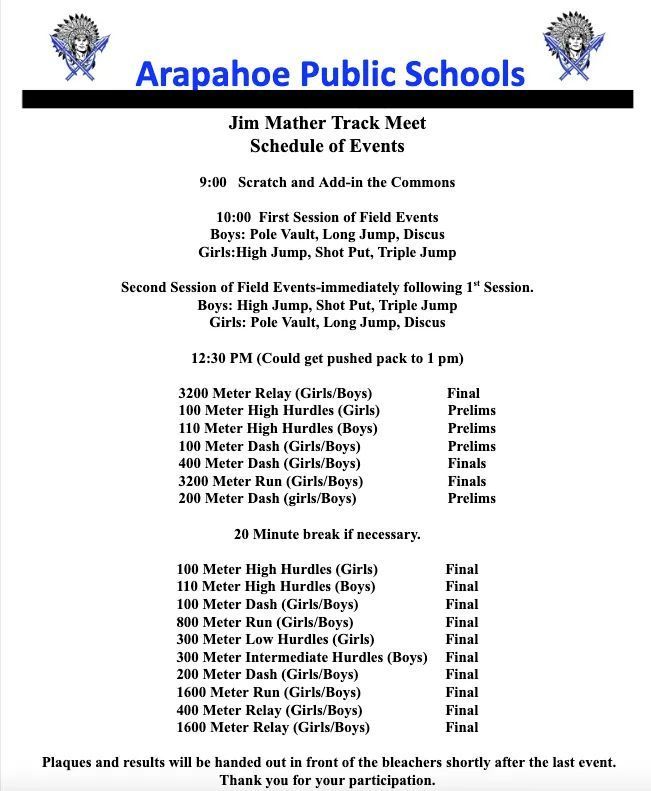 Here is the order of events for the Track Meet @ Arapahoe tomorrow.

Reminder district track and field shirt orders are due this Friday, April 22,2022! Order forms are located in the office. Write checks to WHPS and turn everything into Julie at the office. NO LATE ORDERS WILL BE ACCEPTED!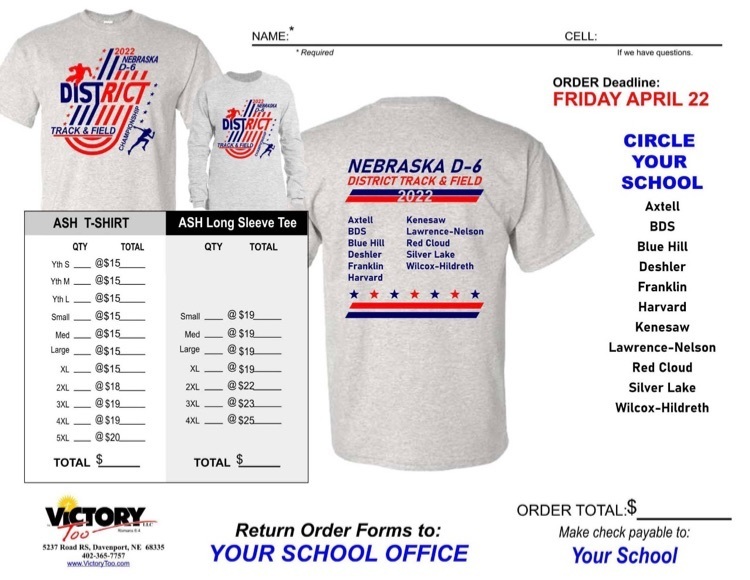 Here is the schedule for the track meet in Bertand tomorrow.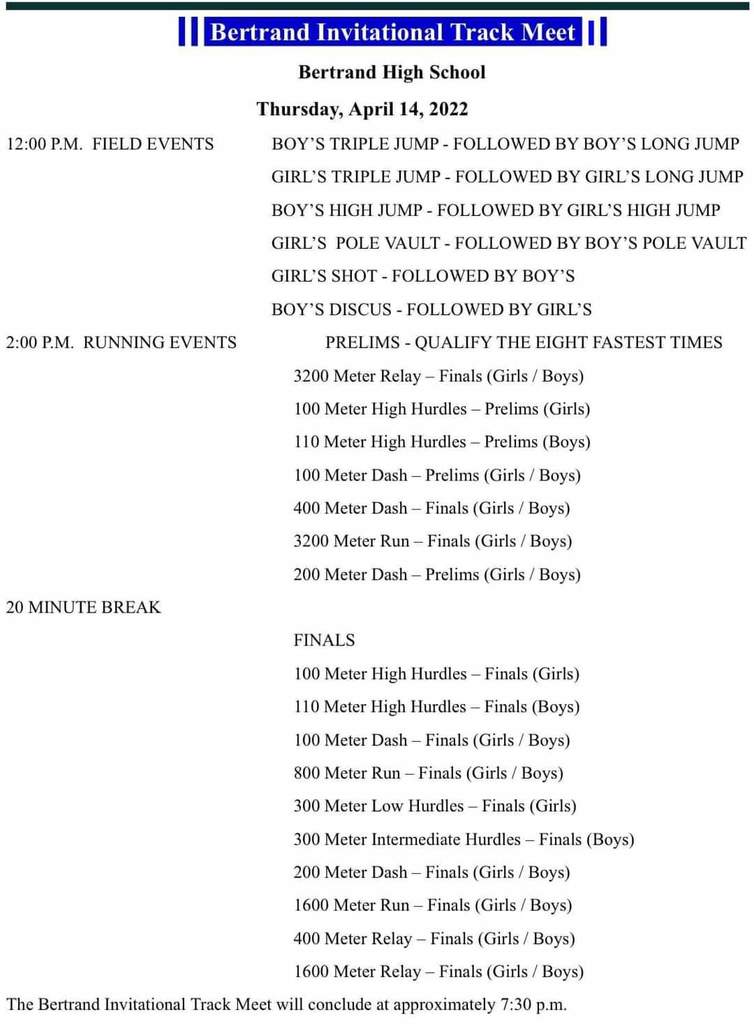 The Wilcox-Hildreth boys' and girls' basketball teams would like to announce that our annual Summer Youth Basketball Camps will be held May 24th-25th. Information/waiver forms were distributed today to students in grades 2-7. These are due back by May 2nd. Please make all checks payable to Wilcox-Hildreth Public Schools. Contact Coach Whipkey or Coach Nelson with any questions.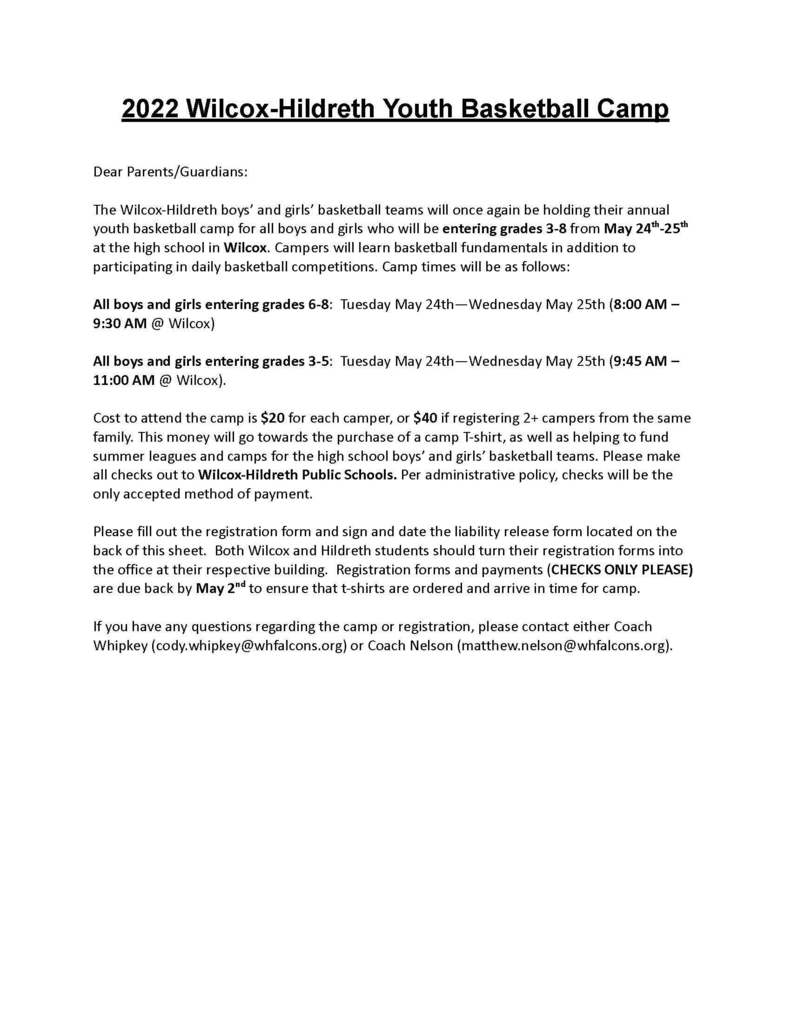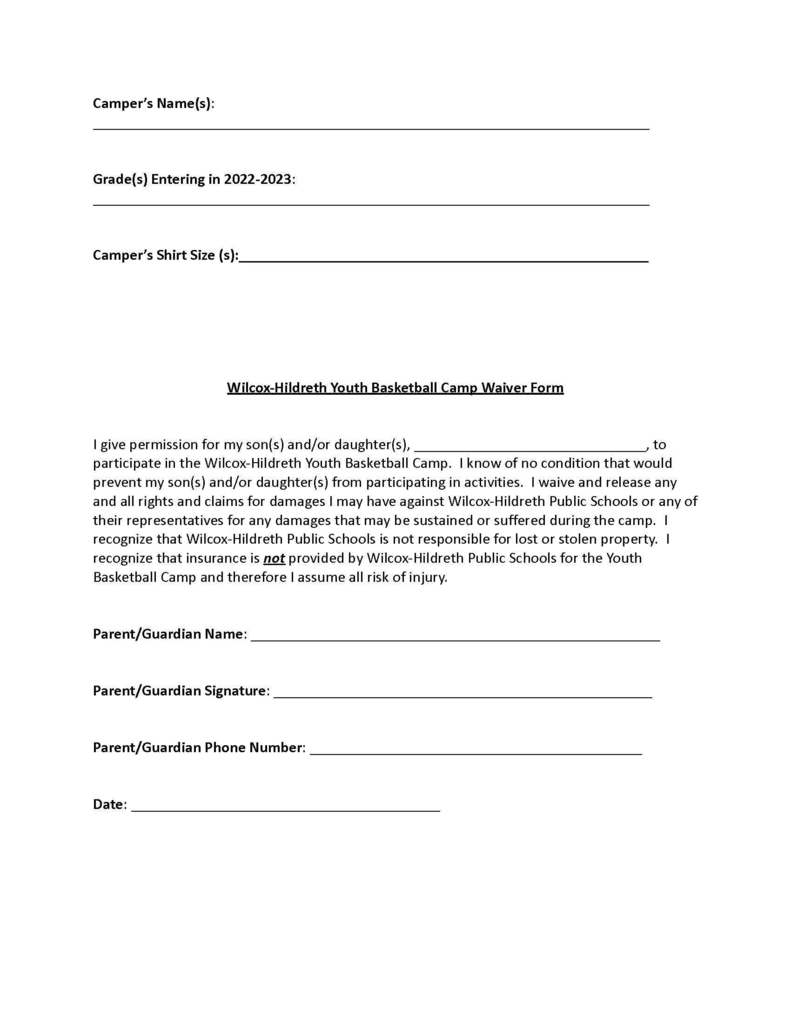 Every single 2nd Grader raised their MAPS math score today!! We are very excited!!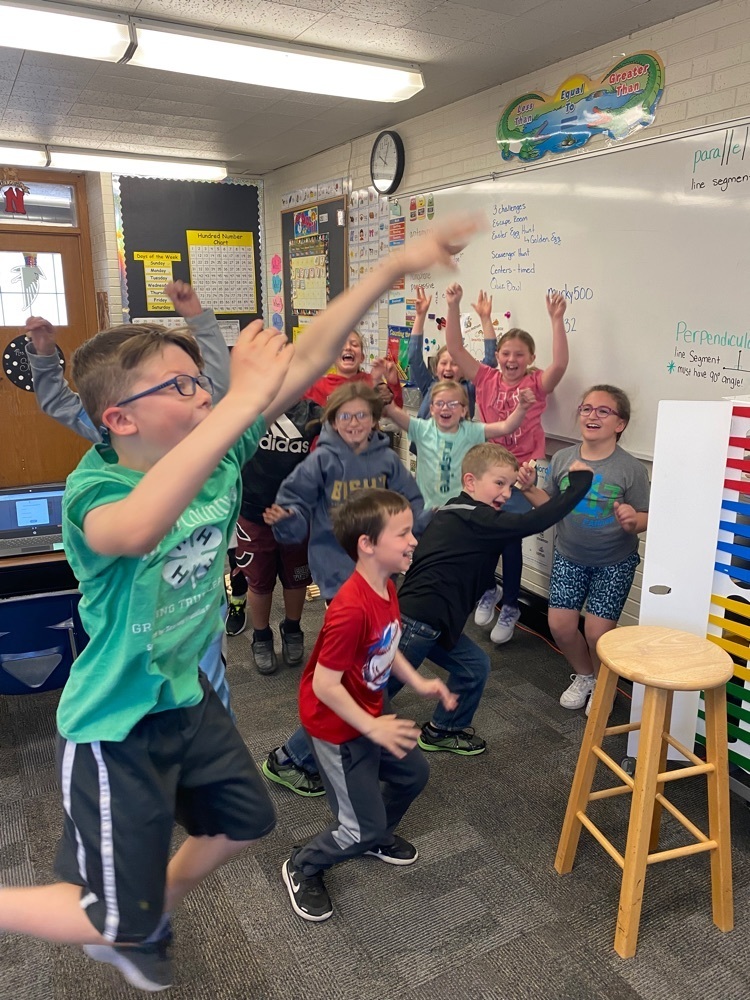 Every single 2nd Grader raised their MAPS math score today!! We are very excited!!

If you are wanting to purchase a short or long sleeve District Track shirt. Your order form with money is due to the Wilcox office by April 22nd. No late orders will be accepted! **Order forms are located in Wilcox office!**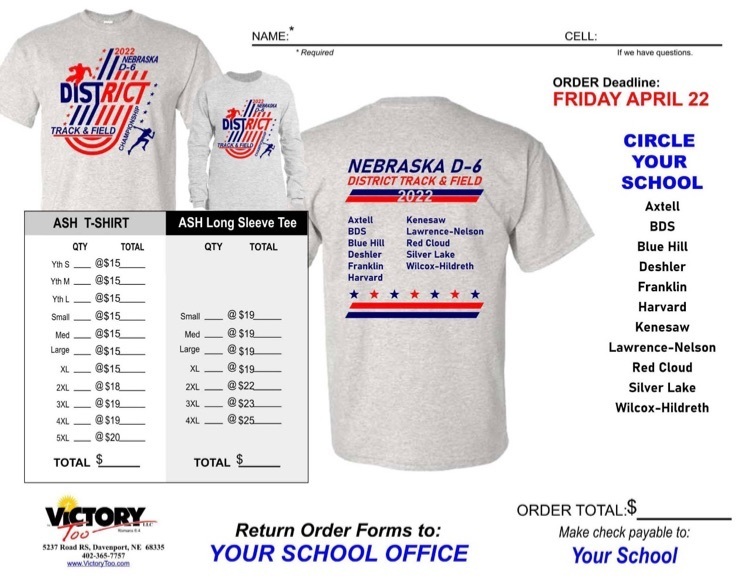 The tenth FORK honoree has been selected! Congrats to Katie!! See the full details of why Katie was nominated by checking out the News section of the school website.

On 4/11/22 Franklin and Kearney County Road departments will start a road project that begins at the north edge of Hildreth and goes to the intersection of Y Rd (A Rd in Kearney Co) and the Keene Road. A pilot car will be used. Students, please plan for additional time to travel to school. If you travel on gravel roads please drive safely and watch for farm equipment during this busy time of year. The project completion date is estimated to conclude on 5/6/22.

If you plan to attend the Track meet today at Axtell, here is the schedule!

Keya Knaus was selected to sing a solo at State FFA! Congratulations Keya!